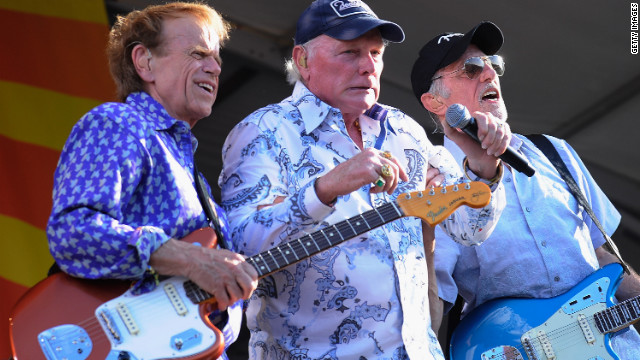 In a situation that may be dicey or may be cleared up within days, potentially rendering this piece of writing rather moot, Al Jardine's participation in the July 5th gig with Mike Love's "Beach Boys" may still be questionable.
One source on the "Beach Boys Britain" message board has indicated that Jardine has not yet officially signed on for the show. No "paperwork" has been signed apparently. Obviously, when these guys do things like the 50th anniversary tour, all sorts of contracts need to be signed. There are no "handshake" deals in the business world anymore, especially when it comes to the litigious bunch that are the Beach Boys. Whether they work on verbal agreements when one guy is sitting in for one show, I do not know. The story sounds a bit dubious only because it seems far-fetched for Love to advertise Jardine's involvement in a recent interview (as well as print advertisements to appear with Jardine's name) if Jardine has not officially accepted the offer. At least some fans have no doubt specifically bought tickets to this show to see Jardine appear with Love for the first time in a full-length show since 1998 (apart from "C50" of course). The same source claims that David Marks is confirmed for the show. We shall see whether any of this is accurate. I would still lean toward Jardine appearing, as there has been way too much promotion done touting his appearance already. Also, Jardine's own internet hubs still list the show. It would be rather ironic if Jardine doesn't show up and was actually never confirmed, considering all of the hassles Jardine was forced to go through in 1999 when he advertised his band as "Beach Boys Family & Friends." Even back then, Jardine never promoted his shows as featuring specific band members that wouldn't be present.
An item that may or may not ultimately be related to this story is a recent report from a one-off solo gig Al played in Atlantic City. A few general fan reviews of the gig seem to indicate that at some point Al was cajoled by a fan into commenting on Mike Love, and may have made a semi-joking (or not so much joking) reference to Mike that didn't indicate a strengthening connection between the two, let's say. Head over to the Smiley Smile board for a more detailed report from the show. While commentators who have had closer contact with Al, such as Howie Edelson, have pointed out that Al's bitterness over Beach Boys business in the aftermath of Carl's death has subsided, leading to a much more mellow Al Jardine, it's not difficult to imagine that he still has some complicated feelings about Mike touring without him. These feelings were all set aside in the glorious glow of the reunion tour two years ago. But to paraphrase the metaphor used by a fan on the Smiley Smile board, Al indeed must sometimes feel like he's repeatedly getting the ball taken away from him steps away from the end zone. Sometimes he's probably partly to blame for it. But he seems to have far more enthusiasm than anyone else in the band for keeping the entire band together. Brian stopped complaining about the end of the reunion a few weeks after the press hoopla died down. Mike and Bruce, Bruce oddly especially, seem ecstatic to not have the full band reunited anymore. David Marks seems to maintain good relations with all parties, but understandably has no power or clout when it comes to the interpersonal or business issues that keep the band apart.
Whether it happened like this or not, let's imagine a scenario where Mike calls Al up and says, "Hey, wanna play with us on July 5th in Jones Beach? It'll be fun to do a gig together." Someone in Al's position could take that any number of ways. It could be seen as a fun time with an old musical pal. It could be seen as a fence-mending exercise. It could be seen as Mike trying to sell more tickets to the Jones Beach show because ticket sales may have sagged. Perhaps Al finds it a bit grating to be invited back for "one special night" into his own band. In any event, one can only imagine how there might be some complicated emotions and feelings involved with something like this, to say nothing of the business and financial issues that may or may be a motivation or a result of doing a show like this.
One has to wonder if Al is once again the strangely isolated one in the band. He has the most intact voice, he has the strongest desire to keep the entire band together to record and tour. Yet, we could end up as this year progresses with Brian releasing a solo album and touring solo without Al, and Mike and Bruce touring as "The Beach Boys" without Al. As I've already mentioned, Al is not likely to be blameless in all of the band's dealings and situations over the years, and some if not most of what Al wants out of this band may not be remotely realistic. But it's difficult to not see the irony involved here.
If Al plays a gig with Mike and Bruce, I'm less interested in that individual event, and more interested in whether these guys can't put something back together as a group. I'm more interested in Al either somehow getting the band to do something with him, or to finally find someone who will help him do a legit solo career, at least one shot at one. Another solo album and a real solo tour. Not an "Endless Summer Beach Band" where Al plays the local mushroom festival and plays a 45-minute set of surf and car songs with rented equipment. Maybe Al needs to find some Wondermints-type Beach Boys nerd musician fans (or grab some of Brian's guys when they're free) and do some small gigs and finally do the deep cuts that he has wanted to for eons.
But I digress. We shall see what comes of this July 5th show.